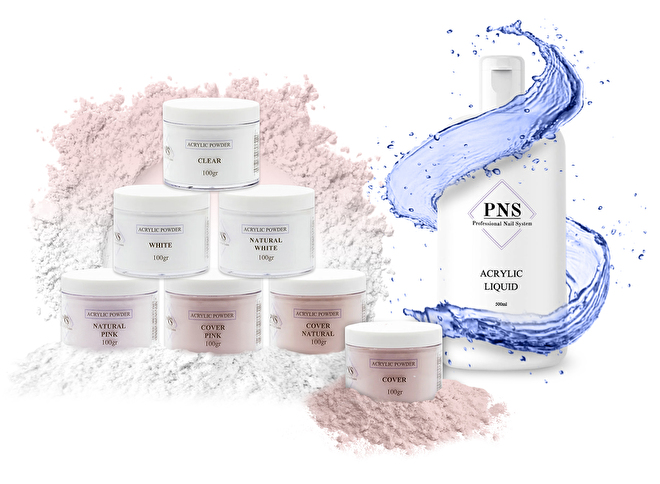 Alle PNS poeders & Liquid zijn ontwikkeld om de nagelstylist een gecontroleerde uitharding te bieden.
Het product blijft verwerkbaar totdat het penseel van de nagel gehaald wordt.

PNS powder& liquid is een hoog kwaliteits gepatenteerd product. Deze aangepaste mix van ingredienten dragen zorg voor een perfecte hechting en kleurstabiliteit waardoor een perfecte balans van stevigheid en flexibiliteit ontstaan waardoor de nagel minder kans op scheuren en breuken heeft wanneer deze door een professionele nagelstylist(e) wordt aangebracht.

Daarom maak je met PNS Acrylic de duurzaamste acrylnagels op de markt.

Acrylic Powders van PNS zijn perfect afgestemd op Liquid van PNS.

Wat maakt de PNS Acrylic Powder & Liquid uniek?
Geschikt voor alle vormen nagels
Pinchbaar
Sterk en kleurvast, non-yellowing
Uitstekende hechting
Duurzaam
Makkelijke toepassing
Voorkomt chippen of breken van de C-Curve
Behoudt zijn oorspronkelijke vorm.
Geschikt voor natuurlijke nagels overlay, babyboom, french manicure, nabehandelingen en verlengingen op tips of sjablonen.

Bevat geen MMA en is HEMA vrij
Nan's Nailshop
Schoorlstraat 127
1024 PT
Amsterdam
Telefonisch Bereikbaar:
maandag t/m vrijdag
10.00 - 17.00 uur
Tel:0612841739
De groothandel bezoeken kan,
bel of whatsapp of we aanwezig zijn!
Gratis parkeren voor de deur!!